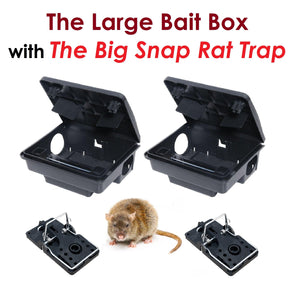 Professional Quality Rodent Bait Box Kit or Snap Trap Killer - Mice Mouse Rat
£1999

£19.99
Tax included.
Shipping
calculated at checkout.
---
---
RAT MICE MOUSE RODENT PROTECTOR BAIT BOX and BIG SNAP TRAP (Made in USA)
RODENT BAIT STATION SUITABLE FOR ALL ENVIRONMENTS
A proven rodent bait station. This robust and fully secured bait station is ideal for internal and external use. The product is innovatively designed and manufactured to work in all environments. The B.E.T.A station is available with bait tray, securing rod and back plate all fully inclusive in the price.
Tamper resistant
Robust
Water resistant
Supplied with detachable bait tray to protect bait from contamination
Supplied with click fast baiting rod
Supplied with wall fixing bracket
Supplied with securing Key
Lid springs to aid easy opening
Professional Heavy Duty Rat Snap Traps for Outdoors / Indoors Rodent
Designed for quick and instant results, professional rat snap traps have the strength needed to deal with persistent rats. These traps are made from heavy-duty plastic and use a powerful metal high-tension spring which immediately springs closed on contact for a quick and humane kill. Setting the traps is simple and straightforward with the one step open and close mechanism. This also makes it easy to cleanly dispose of the rodent with no hand contact. Trap rat snap traps are designed with a large bait trough which reduces bait stealing and an oversized, easily activated trigger pedal to ensure the highest catch rates from the front and sides.

Dimensions (approx): 14cm x 8cm x 7cm

The vertical metal strike bar kills rats instantly for a quick, clean and humane catch
Oversized trigger paddle ensures the highest catch rates from the front and sides
Pre-formed bait cup reduces bait stealing and attracts rats to ideal strike bar location
Made from durable abs plastic and metal for extensive indoor and outdoor usage
Suitable for use in trap rat bait boxes to keep the rodent and trap out of sight
BEST NO POISON SOLUTION KIT CONTAINS: 2 Large Size Bait Station + 2 Big Snap Rat Trap
For use in areas where you do not want to use poison.
NON TOXIC SOLUTION
USED BY PROFESSIONAL - BECAUSE THEY WORK
More humane way to kill rodents - over in seconds!
Bait Box designed to hold this specific Snap Trap in place (inside the box).
More successful that rat traps alone as rodent more likely to take the bait (feel safer eating the bait inside the box).
Hides the dead rodent inside the box rather than being visible
Tamper Proof box for safety.
1 key provided per box
Suitable for both indoor or outdoor use
---
We Also Recommend
---