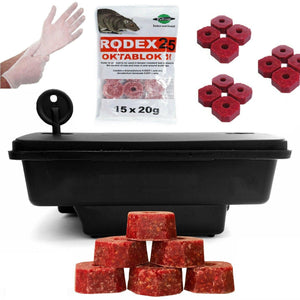 RAT & MOUSE BAIT STATION WITH PROFESSIONAL BAIT BLOCKS
£1419

£14.19
Tax included.
Shipping
calculated at checkout.
---
---
A proven rodent bait station. This robust and fully secured bait station is ideal for internal and external use. The product is innovatively designed and manufactured to work in all environments. The B.E.T.A station is available with bait tray, securing rod and back plate all fully inclusive in the price.
Tamper resistant
Robust
Water resistant
Supplied with detachable bait tray to protect bait from contamination
Supplied with click fast baiting rod
Supplied with wall fixing bracket
Supplied with securing Key
Lid springs to aid easy opening
Note: We do not supply with Grain/Paste baits. It is only available with Block baits.
Mouse Poison Block Strong Strength Killer for Mice Rat Rodent Bait Box Station
The highly palatable formulation suitable for use in all climatic conditions.
Rodex Oktablok II is a ready-for-use bait formulated using high quality culinary grade wheat flour, blended with chopped wheat, other cereals and proteins which are bound together by edible waxes.
The addition of other food grade materials improves palatability compared to other extruded or cast blocks ensuring excellent bait 'take'.
The incorporation of bio-stats inhibits the growth of both fungi and bacteria should the block be exposed to damp/sewer conditions.
Rodex Oktablok II also contains an aroma, giving a unique chocolatey smell.
Rodex Oktablok II is manufactured by a hot casting process ensuring the wax and other components are intimately mixed together.
This process ensures blocks are highly tolerant to humidity and suitable for use both indoors and outdoors.
The blocks have a hole through the centre that allows them to be securely fixed in a bait station.
Contains: Bromadiolone 0.0025% w/w & denatonium benzoate 0.001% w/w.
Control: Rats & mice.
Application: Indoors and outdoors (around buildings) and in sewers.
Rodex Oktablok II blocks have a nominal weight of 20g.
USE 
RODENTICIDES
 SAFELY. ALWAYS READ THE LABEL AND PRODUCT INFORMATION BEFORE USE.
PAY ATTENTION TO THE RISK INDICATIONS AND FOLLOW THE SAFETY PRECAUTIONS ON THE LABEL
---
We Also Recommend
---