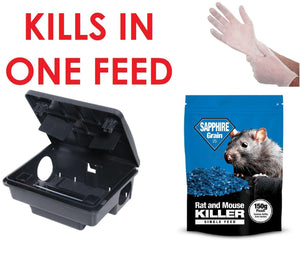 RAT & MOUSE BAIT STATION WITH PROFESSIONAL BAIT BLUE GRAIN - SINGLE FEED KILLER BRODIFACOUM AT 0.0025% - THE MAXIMUM LEGAL STRENGTH (1 Box + 150g Grain)
£1419

£14.19
Tax included.
Shipping
calculated at checkout.
---
---
RODENT BAIT STATION SUITABLE FOR ALL ENVIRONMENTS

A proven rodent bait station. This robust and fully secured bait station is ideal for internal and external use. The product is innovatively designed and manufactured to work in all environments. The B.E.T.A station is available with bait tray, securing rod and back plate all fully inclusive in the price.
Tamper resistant
Robust
Water resistant
Supplied with detachable bait tray to protect bait from contamination
Supplied with click fast baiting rod
Supplied with wall fixing bracket
Supplied with securing Key
Lid springs to aid easy opening
KILLS IN ONE FEED - BLUE GRAIN
Suitable for both mice and rats. Used by professional or Ameture. 
You do not need to be a professional to use it, Just read and follow the description given at the back of the packet.
Choose required quantity from dropdown option.
A bitter chemical compound to prevent human consumption.
Supplied in packs of 6 x 25g (150g Pack) for easy use , you do not want it to be wasted!
CONTAINING BRODIFACOUM AT 0.0025% - THE MAXIMUM LEGAL STRENGTH.
Easy To use:-Follow the steps to get ride of Rodents.
Place rat poison in areas where you have noticed rodent activity, e.g. on rat runs, along fences or walls, where droppings have been found, near to or inside rat burrows.
Use 25g of rat poison at each baiting point, located roughly 5 to 10 metres apart, where high levels of rat activity are noted.
Check baiting points every 5 - 10 days, replacing any poison taken. Once you notice Th poison is left in the bait box, this means a success!
When baiting use bait boxes to make poison inaccessible to children, pets, birds and other non-target wildlife, we do paper boxes to save environment , instead of Plastic ones!
Package Contain: 1 Large Bait Station + 150g Blue Grain

USE 
RODENTICIDES
 SAFELY. ALWAYS READ THE LABEL AND PRODUCT INFORMATION BEFORE USE.
---
We Also Recommend
---