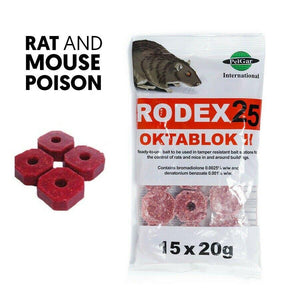 Rodex 25 Block Bait Rat & Mouse Killer Rodent Vermin Poison - Easy Pack 300gram pack of Oktablok II
£799

£7.99
Tax included.
Shipping
calculated at checkout.
---
---
Wax Block Bait for Rat & Mouse Killer Poison Control - Indoor, Outdoor
Contains: Bromadiolone 0.0025% w/w and denatonium benzoate 0.001% w/w.
Control: Rats and mice
Application: For general public use in and around buildings.
Rodex is a ready-for-use bait formulated using high quality culinary grade wheat flour, blended with chopped wheat, other cereals and proteins which are bound together by edible waxes.
The addition of other food grade materials improves palatability compared to other extruded or cast blocks ensuring excellent bait 'take'. 
The incorporation of bio-stats inhibits the growth of both fungi and bacteria should the block be exposed to damp conditions. 
Rodex also contains an aroma, giving a unique chocolatey smell.
Rodex is manufactured by a hot casting process ensuring the wax and other components are intimately mixed together. 
Made in UK product
This process ensures blocks are highly tolerant to humidity and suitable for use both indoors and outdoors. 
The blocks have a hole through the centre that allows them to be securely fixed in a bait station.
These are the same Block sold by many sellers on eBay but branded differently, do not fall for brands as the active ingredients are same in all of them, which means they will do the same thing.
Available in easy use pack , each packet contains 15 blocks x 20g (300g of Blocks)
When using it with the Big Bait Station, you should use atleast 7-10 blocks in each station, and for Smaller Bait boxes use about 2 each in bait boxes.
Note:-
Kindly read the instruction available in the packet before using it for health and safety, we recommend you to wear hand gloves and mask while using them.
The amount of bait you need to use depends on the infestation that you have, we cannot guarantee that with one time use you will be able to get rid of the problem, you might need to repeat the process over for few weeks.
Legal Information
Approved by the HSE for amateur operators within the UK.
Ready-to-use bait to be used in tamper-resistant bait stations for the control of rats and mice in and around buildings.
Supplied in packets of 300g (15 x 20g blocks)
Bromadiolone 0.0025% & denatonium benzoate 0.001% w/w
Always read and follow the instructions on the rear of the packaging.
Hazard statement(s): H373 May cause damage to organs (Blood) through prolonged or repeated exposure. 
Precautionary statement(s): P260 Do not breathe dust. P314 Get medical advice/ attention if you feel unwell. P501 Dispose of contents/ container in accordance with national regulations
Warning: May cause damage to organs (Blood) through prolonged or repeated exposure. Contains 1, 2- Benzisothiazolin-3-one. May produce an allergic reaction. To avoid risks to human health and the environment, comply with the instructions for use.
---
We Also Recommend
---