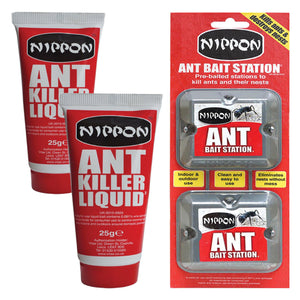 Nippon Ant Insect Killer Kit for Home & Garden Black Ant Control (2 x Liquid Gel 25g with 2 x Ant Bait Stations)
£1299

£12.99
Tax included.
Shipping
calculated at checkout.
---
---
Nippon Ant Bait Station
A ready-to-use liquid insecticide bait, Nippon Ant Bait Station is perfect for anyone looking for a clean and simple solution to their ant problem.
Fully enclosed, Nippon Ant Bait Station can be used both indoors and outdoors. Ideal for combating infestations around domestic premises or out-houses / greenhouses.
Acts to kill ants and their nests
Eliminates a nest without mess or trace
Contains Spinosad
Unlike sprays and other liquid solutions, Nippon Ant Bait Station is totally enclosed and easy to use. The ants enter the bait station, taking back the liquid to their nest. The active ingredient is then spread throughout the whole colony, stopping ants in their tracks and destroying the complete nest at the same time.
Nippon Ant Killer Liquid Gel 25g
Formulated to destroy complete ant colonies without trace. It consists of a sugary bait specially formulated to appeal to black ants.

The type that tends to be attracted inside the home. Worker ants take the sweet bait back to the nest and feed it to the whole colony.

Nippon Ant Killer Liquid is particularly useful when the ant nest site is unknown or inaccessible

Should be used at the first sign of ant activity – normally in early spring

To use apply a few drops of the liquid, preferably in the late evening, to a non-absorbent surface, near to the ant run

Do not disturb feeding ants as it is essential, they take the bait back to the nest and the rest of the colony.

Change the bait daily until any activity ceases.
As with any biocide, always read the label and product information before use and dispose of responsibly afterwards. Keep out of reach of children.
Nippon Ant Insect Killer Kit having: 2 of each Nippon Ant Bait Station & Nippon Ant Killer liquid Gel 25g
---
We Also Recommend
---